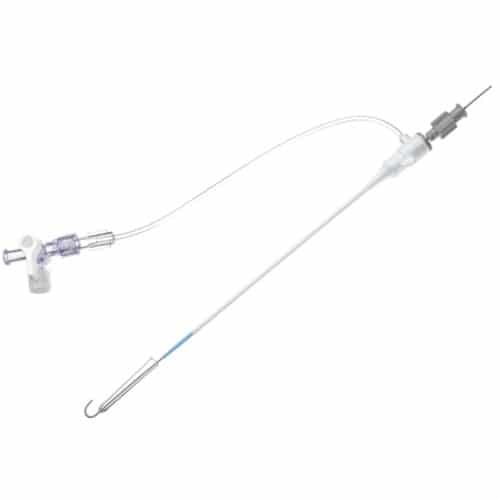 Description
Shoocin(TM) Introducer Kit
PRODUCT FEATURES
Advanced material improves bendability and flexibility without gapping or kinking.
Quarter-turn-screw dilator locking system ensures the smooth transition from dilator to sheath, and prevents the pull out of the dilator because of the friction during insertion.
Minimized possibility of damaging tissue upon sheath entry, advancement and withdrawal, providing smoother and easier vascular access even through difficult access sites.
Including types of Standard, Radial, Femoral. Long Sheaths.
Full kit Components:
Introducer Sheath (radial / femoral / long sheath) (1)
Stainless Steel Guide Wire (straight / J angled/ 135° angled) (1)
Introducer Needle (1)
Scalpel (1)Syringe (1)
The Introducer Kit can be customized by:
a)Remove the every single component includes guide wire, introducer needle (IN), scalpel (K) and syringe (S).
b)Replace the stainless steel guide wire (straight SS/J SJ/135° SW) into Nitinol guide wire (straight NS/J NJ/135° NW) or hydrophilic guide wire (straight HS/135° HW).
c)Replace the introducer needle (IN) into intravascular catheter (IC).
(e.g. Radial sheath/6F/7cm, 0.021″ straight stainless steel guide wire/45cm, 20G introducer needle, without scalpel and syringe: RS060721-SS45-IN20)
Please contact for detailed catalogue numbers of customized kits.
ORDERING INFORMATIONPlease contact us for detailed information in your region.